1. Refrigerator Door
OK, yes I am biased. Chalkboard refrigerators are great for art, messages, reminders and more. Decals can be used just as well as paint, and the project can be lot less time-consuming too.
The decal shown on the left measures 17.7″ By 78.7″ and typically costs between $10 and $15, so you can get a lot of wall or door coverage or do multiple projects with a single sheet without having to spend a ton of money (or wait for paint to dry!).

2. Above Desk in Office
Leave yourself reminders, draw up a calendar, create a to to list or write down your goals where they are in plain sight and you can't miss them: on the wall by your desk. (No more lost or misplaced sticky note – right!)
This can be especially functional if your desk faces the wall, but you can also apply this concept to a side wall or even the side of bookcase or back of an office door.

3. Below Chair Rail on Wall
Want to designate an area on the wall for young kids to color on or decorate? Go below the chair rail!
This strategy not only gives kids a special place to play where you watch them and enjoy their creations, but you can still keep your room looking nice and not have to give up an entire wall.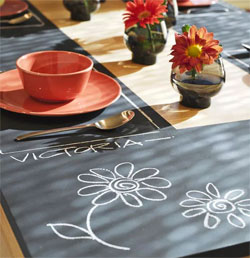 4. On a Tabletop
Although many people use chalkboard paint to make chalkboard tables that you can draw on, there is no reason why you can't use chalkboard decal panels. Well yes, there is.
If the surface is uneven, you'd be better off painting the table. However, if the surface is smooth, you can go head and save yourself some work by using a decal and be done in less than a hour – no drying time either!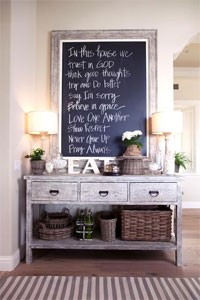 5. Entryway Art
Chalkboards can be used indoors or out, by the way, but in any case they are useful for displaying welcoming messages to guests and friends.
Change them up depending on the season or event or simply create a message you want to display throughout the year. (They can also be used for friends or visitors to leave notes for you…)
Frame your board to create something smaller and more decorative – or use a few panels to cover an entire wall.

6. Behind a Bar
Whether you want to list drink specials, personalize your watering hole with your own artwork or have a space where your friends can get creative while they are enjoying their cocktails, a bar can be a great spot to put a blackboard.
Change it up when you have special events, use it to play games or create a signature look that will last for years. Of course, your friends may decide that for you…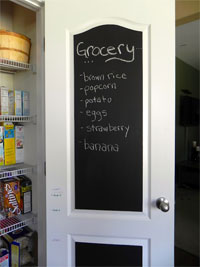 7. Inside a Pantry Door
While being out of sight but still in a convenient location, a pantry chalkboard is quickly accessible and easy to use for grocery shopping lists, messages, menus, meal calendars and more.
Covering an entire door also lets you use the writable space for multiple purposes…
Leftover decal pieces can then be used to label spices or other food containers to give your pantry a more organized look and make items easier to find.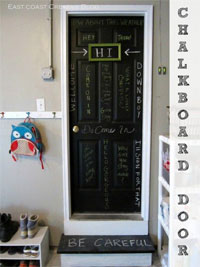 8. On the Interior Garage Door
If you want to leave a message for someone in the family, an interior garage door is a great place to get someone's attention – or even give yourself a reminder.
This is the door that leads from the garage to the house, so you don't have to worry about keeping it neat and clean for guests.
This makes an otherwise un-used space very useful. Take advantage of other similar spaces like mud rooms, laundry rooms, etc..

9. Behind a Bed as a Headboard
Cut your decal to the shape and size you want it for a headboard, or have it extend the full height of the room. Use it for goals, thoughts, reminders or creative drawings.
Some people draw a headboard shape or design while others cut the decal to create the headboard look they want.
TIP: Keep scribbles and drawings a few feet above the bed so they don't get smudged from pillows.

10. Creative Wall Art in a Small Bathroom
Chalkboard decal panels can be a simple and inexpensive way to create a sophisticated or shabby-chic look without a lot of effort (or even drawing skills).
With a small space, you don't have to worry about covering a large wall. Thus, you have less work and, of course, less cost as well. Keep it simple for a clean, modern design or get more creative for a shabby chic look.
Tips for Chalkboard Wall Ideas & Application:
Choose a totally smooth surface that is clean and free from dust and moisture. You may use a damp clothes clean thoroughly the applying smooth surface.
Peel off the backing paper from a corner, stick to desired surface, use a soft cloth to squeegee out air bubble when peeling off the paper.