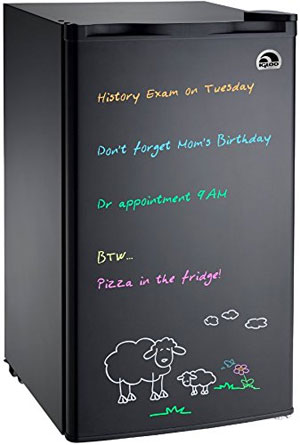 Whether you need a fridge for your college dorm room, apartment, mini bar or garage, compact refrigerators come in handy – not to mention a chalkboard mini fridge.
This appliance seems to be the perfect location for shopping lists, reminders and notes to friends or family members. You don't have to worry about losing small sticky notes or forgetting an important message or appointment altogether.
The fact that you can erase what you write simply makes it easier to write more – probably becoming more organized and efficient without even realizing it.
Make a Dry Erase Refrigerator or Buy One?
You can make your own chalkboard refrigerator with special paint and a few simple tools. On the other hand, you can also buy a dry erase mini fridge instead. This is definitely a short cut.
The Dry Erase Advantage…
Buying is easier, but another advantage is the eraser board surface of a store-bought fridge, which is less messy because there is no chalk dust. Instead of chalk, you write or draw using colorful markers, which can be wiped clean with a basic cloth. This type of writing surface is also cleaner-looking, which some people prefer.
The Eraser-Board Mini Fridge Line-up:
Below are 4 dry erase mini fridge models that are inexpensive and can be ordered online. Some are Energy Star rated for efficient energy consumption. That said, a nice side benefit to all compact refrigerators is that they use very little power and therefore are cheap to operate.
Click on the images to find out more…
Igloo Eraser Board Refrigerator
The Igloo comes in black or white, as shown to the right and below. Both have a 3.0 cubic foot capacity for refrigerated items.
You can also draw sheep on the front.
There is a separate ice cube chamber with ice cube tray, but don't plan on throwing a party with these ice cubes, unless it is a very small party.

There is space efficiently designed to hold 2-liter bottles plus a soda or beer can rack in the door. Adjustable shelves and a reversible door are also some other convenience features.
Some people say that igloo refrigerators are loud, but I have to disagree. I have an igloo compact fridge, and it is no louder than any other small fridge. In fact I think it is pretty quiet.
And did I mention how cute the sheep are?
Dry Erase Fridge Review:
Click here to learn more
Energy Star Dry-Erase Fridge
The SPT Energy Star Compact Refrigerator has a 2.6 cubic foot capacity with a dry erase board on front. It is a little smaller than the Igloo, but not by much.
It comes in black with trim colors of either blue or pink. Pen included, by the way.
Similar to the Igloo style above, this fridge has door compartments to hold bottles and cans. It also has a reversible door – plus adjustable legs.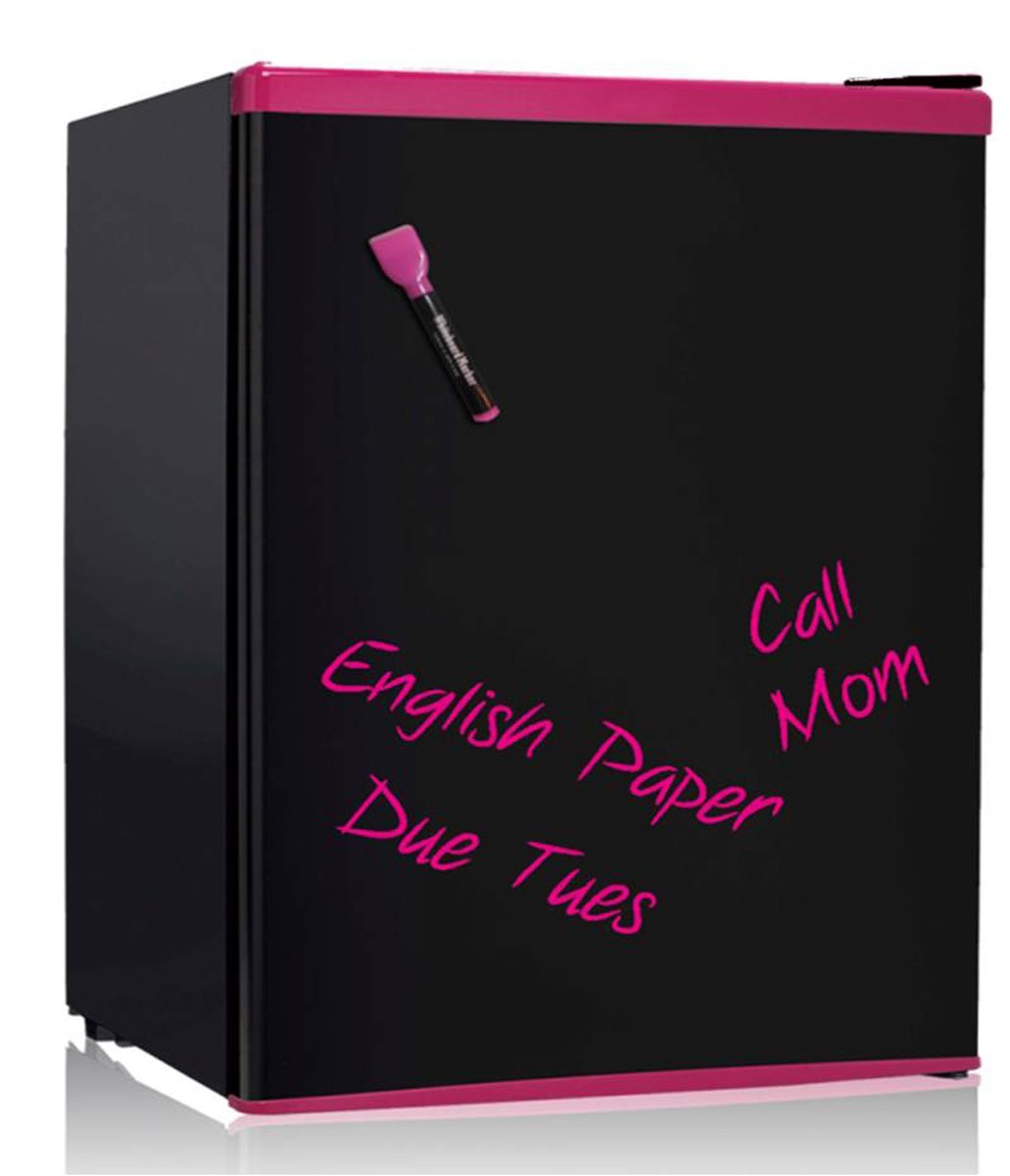 It does have a full-width freezer compartment, which of course is great if you need a little extra room for ice or other frozen stuff. However, don't plan on getting a 20 pound bag of ice and sticking it in there. It's small. It also will take away a little bit of fridge space. No big deal.
Did I mention that the package includes the pen?