Yes, you can use an eraser or a damp cloth to wipe away chalk marks on your fridge. However, after long-term use, a chalkboard surface can get a little, well, "chalky" looking.
Personally, I like my chalkboard surface looking clean and bright, so I use a chalkboard cleaning kit. It just looks more impressive. Plus, a darker surface helps chalk stand out more.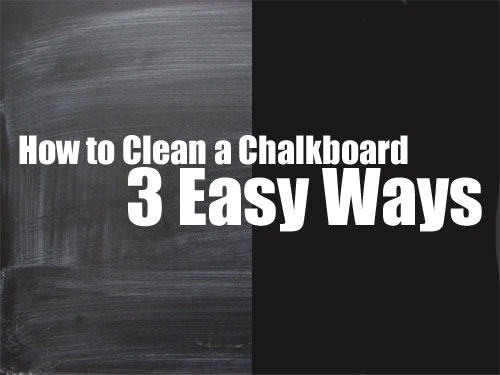 The refrigerator does take up a significant amount of visible space in the kitchen. Therefore, it makes sense that you would want it to look somewhat presentable.
Over time, you might want to get rid of that chalky look and start off with a clean slate (pardon the pun). That said, why not have it looking clean and fresh everyday, right? It doesn't take much effort at all.
Note: This also gives you the option of having a plain black fridge without any chalk on it for a while. (We'll see how long that lasts…)
3 Ways: How to Clean a Chalkboard
Instead of using a regular rag and water, use these specially-designed cleaning clothes. You don't use water, but they magically make your fridge look new again. They are easy and fast.
They do need to be replaced about once a year (depending on how much you use the cloth). The cloth is large, so you can cut it into smaller sections. This way, it will last longer.
2. ZenErase Chalkboard Cleaner
Another option you can use is a spray cleaner. You spray the solution on your chalkboard surface and then wipe it off with a clean cloth.
Get chalk residue off your fridge, along with smudges and fingerprints too.
Tip: The key is to use a small amount of cleaner – a little goes a long way here.
3. VersaChalk Chalkboard Cleaning Kit
This versatile chalkboard cleaning kit actually cleans blackboards and whiteboards. In addition, it can remove chalk pen and dry erase marker ink from other surfaces.
The kit includes Magic Erasers (amazing for removing pretty much any scuffs or marks anywhere) plus a microfiber cloth. The spray itself contains only natural ingredients, yet it quickly and effectively cleans chalk off a board, better than you might think.
Note: Microfiber works really well at magnetically attracting dust off the surface of your chalkboard. Even if you don't use this kit, I highly recommend getting microfiber clothes to get your chalkboards really clean.