Chalkboard Fridge Decals that You Can Peel & Stick
Maybe you don't want to paint your entire refrigerator like a chalkboard – or you don't want to buy a specially-made chalkboard fridge.
That's OK. You can get chalkboard peel and stick decals instead. These are not permanent, yet they still allow you to essentially do the same thing: write on your fridge.
Decals are the ideal solution for people who don't own their fridge or those who don't want to spend time painting.
They are a quick fix, are not expensive and you can use them long after your refrigerator is gone because you can simply remove them and stick them somewhere else.
Chalkboard Peel and Stick Panels
You can stick, remove and reposition these inexpensive fridge panels, so they are very versatile. In fact, if you decide you'd rather use them somewhere other than your fridge (like a wall or a cabinet) that's OK too. They can easily be cut to the size you need, so they are perfectly customizable.
Often, people mistake these panels for magnetic chalkboards. However, they can work on non-magnetic surfaces as well due to their adhesive backing. This is a big advantage and comes in pretty handy, since I've mistakenly assumed that some of my appliances had a magnetic front – when it turned out that they didn't. Oops!
Chalkboard Decal & Panel Kits:
Some kits, like the Wallies Peel and Stick Chalkboard, come with 4 peel and stick chalkboard sheets- plus chalk.
This means that you can use them individually (as 9″ x 12″ notepads), or you can position them together to create a larger writing/drawing area.
They are made of vinyl with a self-adhesive back – which, by the way, will not leave a sticky residue on your appliance.
They are super easy to install, adjust and move around. If you are looking for an easier project that takes virtually no time or brainpower to complete, these peel-and-stick chalkboard decals are the way to go.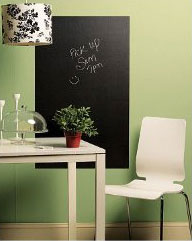 If you are looking for a single panel instead of 4 small ones, there is a larger 25″ x 38″ chalkboard with the same features as the smaller versions.
The larger panels work great on walls, the back of doors, on cabinet panels and of course refrigerators. Use them as wall calendars, giant notepads for reminders or to do lists or in a kid's playroom.
There are also fun shapes available, like butterflies, cars, planes, trees, clouds and more.